Impact100 Grants $180k to Support Refugee and Mental Health Services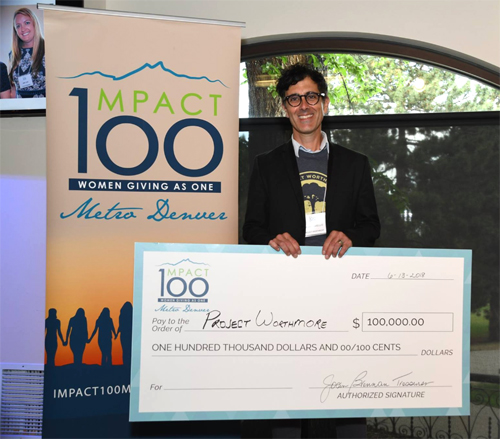 Impact100 Metro Denver is able to award a total of $180,000 in grants to three Denver-based non-profit organizations! Our $1,000 membership donations will be used to support transformational impact in Colorado's refugee and mental health services. Congratulations to two of our grantees!! Each has received additional funding related to expand the work supported by our $100,000 awards. What great examples of "transformational work" in action.
$100,000 to Project Worthmore
With the $100,000 Impact Grant, Project Worthmore will be able to significantly transform its Food Share Program to address food insecurity among the refugee population. It will purchase infrastructure and employ refugees to support a 9 am to 5 pm food access program five days a week as well as a mobile unit to deliver food to single mothers, the elderly disabled. It will also be able to kick-start a business model to support the food program by increasing farm share partnerships from its refugee-training with local restaurants. Project Worthmore fosters community and self-sufficiency among Denver-area refugees. It was formed in 2011, and located in the heart of the refugee committee, in response to the estimated 60,000 people who have fled their homes from other countries and now call Denver home.
$48,000 to Rocky Mountain Crisis Partners
With the $48,000 Impact Grant, RMCP will help address the organizational crisis it faces in retaining a qualified workforce by making long-overdue and critical improvements to its physical work environment. Rocky Mountain Crisis Partners is a statewide, 24/7, year-round, community-based system of crisis intervention services and handles about 20,000 calls a month. It provides culturally-sensitive counsel in 150 languages.
$32,000 to International Rescue Committee in Denver
Recognizing that financial literacy is one the biggest barriers to better jobs, education and contributing to a region's economic development, IRC will use its Impact Grant to initiate a financial literacy and Center for Economic Opportunity for Denver area refugees. International Rescue Committee in Denver helps refugees rebuild their lives and regain control of their future in their new home community.
This year's grant award is a record for the three-year-old Impact100 Metro Denver, whose current membership is at 180 women throughout the Metro Denver area who pool together $1,000 each to make a larger philanthropic impact than they could alone. This year's finalists were selected from a pool of nearly 40 applicants who underwent a rigorous grant review process.
Refugee and mental health services are vital to a healthy economy and culture and we applaud the passion, determination and smart business models that our finalists displayed and look forward to being a part of their future success.  
Past Grant Updates:
Fresh Food Connect (our 2017 $100,000 award). In addition to expanding its reach by licensing an app to further Colorado regions and beyond,  Fresh Food Connect has been offered a matching grant to create the world's first home-gardener to home-gardener online marketplace nationally.
Work Options for Women (our 2018 $100,000 award). The State of Colorado has awarded a new grant to take the Mobile Culinary Classroom to North Aurora to provide culinary skills training to reduce recidivism and support underserved individuals who live in that area.
Interested in getting involved? Learn more about our information and educational resources.